CURASAN AG
We have made a collaboration with German Curasan AG, who for more than 20 years has developed biomaterials for dental and orthopedic use. Their line of synthetic bone substitutes for Socket Preservation and GBR procedures fit very well into the overall GBR portfolio of allograft, bovine, equine and porcine products.

Foam
CERASORB® Foam is a highly porous composite made of porcine collagen (collagen complex) and pure-phase β–TCP granules of different sizes and densities.
The collagen matrix embeds the granules and stabilizes them by virtue of its fibrous structure. This special combination of the two materials provides a granular phase of 85% by weight, and thus a high volume stability after degradation of the more rapidly resorbed collagen.
New: CERASORB®Foam for Intelligent Alveolar Defect Treatment
CERASORB® Foam is now available also in a 12 x 12 x 4 mm (0.5 cc) size meeting the needs of alveolar defect filling and in a convenient 3-piece set.

Cerasorb M
CERASORB® M is a further development based on CERASORB® Classic. It has an interconnecting, open multi-porosity with micro -, meso – and macropores (5 μm – 500 μm) and an overall porosity of approximately 65%. The granules are polygonal, i.e., irregularly shaped, which enhances intercalation and interlocking in the defect cavity. Micro movements that can delay the healing process are largely avoided.
Depending on the area of application, CERASORB® M granulate is available in different grain sizes for oral bone surgery: 150 – 500  μm, 500 – 1,000 μm, and 1,000 – 2,000 μm.

Paste (syringe)
​​The formulation of CERASORB® Paste is based on developments in modern bone biology. Very fine CERASORB® M granulate is suspended in a hyaluronic acid matrix. This special, patented combination optimally supports the physiological healing process.
The form–fitting application of CERASORB® Paste in small bone defects can be done directly from the sterile pre–filled syringe. This makes it possible to also treat difficult–to–reach places simply and quickly.
After application, CERASORB® Paste takes up growth factors by diffusion from the surrounding bone tissue. The hyaluronic gel provides a matrix for the infiltrating cells with on which the fine CERASORB® M granules can be included. The hyaluronic acid gel does not harden. Its properties make it possible to remain a permanently ductile, volume–stable hydrogel in the defect, where it supports the body's own healing process.
Hyaluronic acid is a natural component of the extracellular matrix in human beings. Results from recent studies show that it promotes the differentiation of stem cells into osteoblasts, and in addition, has anti-inflammatory action.

Osgide
Osgide® is a bioresorbable barrier membrane for use in guided tissue regeneration (GTR) and guided bone regeneration (GBR).
In periodontal bone defects, the membrane creates a protected environment for bone regeneration in the defect area and supports osteoneogenesis by presenting a barrier to the infiltration (migration) of soft tissue and promotes the growth of osteogenic cells in the bony defect.
Osgide® is a high purity membrane which is manufactured from porcine starting materials under controlled and standardized conditions. It consists of a fiber network of collagen and elastin fibers, which prevents the migration of bone graft material and has very high mechanical stability.
Osgide® can be easily secured with pins, if necessary, and a tension–free closure of the mucosa can be obtained. The surface textures of membranes demonstrate an influence on the morphology of the adherent cells.4
Read more

Titanium Foil
Ti–Titanium foils are not resorbable and are particularly suited for three–dimensional bone reconstructions (GBR – guided bone regeneration). If necessary, the Ti–Titanium foil can be secured using a matched, easy–to–use fixation system.
Titanium is considered in all fields of surgery to be a safe material with a proven track record.
The titanium foil is available in 20 μm and 40 μm thicknesses, and both are 30x40mm.
40 μm titanium foil provides micro stability. Its surface is chemically electropassivated and bioelectrically absolutely neutral. The foil is impermeable and provides outstanding results even in an exposed site, where exposure is invisible because of the membrane's mucous–membrane coloration. The 40 μm foil must be secured.
The 20 μm titanium foil is very flexible and can, for example, be used for covering periodontal defects or extraction sockets. In most instances, the 20 μm foil does not require fixation.
CeraSorb Foam
CeraSorb M granulate
CeraSorb Paste (syringe)
Osgide membrane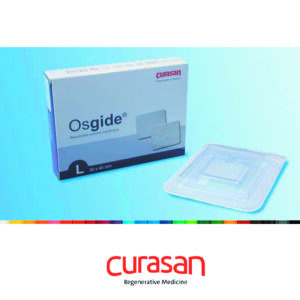 Titanium Foil